Welcome to Fairbrae…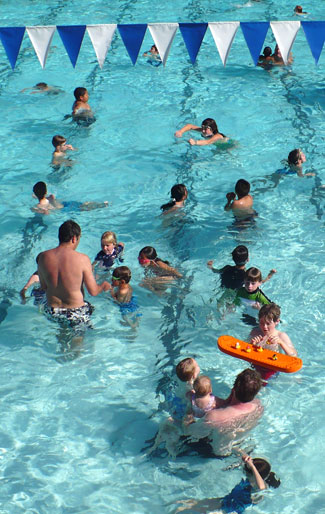 We are a member owned neighborhood club located in Sunnyvale, California. Members enjoy our lap swimming pool kept at 81 degrees year round and our two recently renovated lighted tennis courts. During the summer our swim lesson programs are tailored to fit the needs of adolescents and tiny tots and are available for both members and non-members alike. We also offer private lessons for children and adults.
Families enjoy family hosted barbeques each Sunday during summer months, as well as other social events conducted throughout the year for both adults and children. If you are interested in our club, please feel free to call or email the manager, Steve Chaney, for additional information: (408) 739-3833 or steve@fairbrae.com
Look inside our website for:
Event Information
The Board Blog
Party information and Schedule
Swim Team information
Winners of our Labor Day Tennis Tournament and much more including past information in our monthly Newsletter, "The Filter".

Pool Schedule and SUNN swim team schedule through April 13, 2018
The deep end, not just the diving board, is closed unless there are two Fairbrae lifeguards on duty or Manta Rays swim coaches are supervising its use.
The SUNN  Swim Team will be practicing  through April 13th, 2018 during the week.
The  swim team will be utilizing the far 4 lanes: Monday thru Friday from 3:45pm until 7:30pm.
The two lanes closest to the clubhouse will be available for members use during swim team practice times.
Weekdays through April 13th, 2018
| | |
| --- | --- |
| 6am-noon | Monday-Sunday open swim…no lifeguard on duty, please watch your kids. |
| Noon-10pm | Monday-Sunday open swim…no lifeguard on duty, please watch your kids. |
| 3:45pm-7:30pm M-F | See above for SUNN swim team schedule |
Weekends through April 13th, 2018
6am-Noon
parent supervised swim for kids/adults

Noon-6pm

6pm-10pm

Lifeguards on duty on weekends only through September. No lifeguards from Oct-May 25th


parent supervised swim for kids/adults
lesson information for members and non-members:
2016 Tennis lesson registration (PDF)