Welcome to Fairbrae!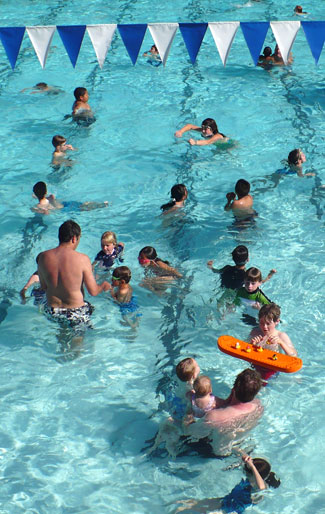 We are a member owned neighborhood club located in Sunnyvale, California. Members enjoy our lap swimming pool kept at 81 degrees year round and our two recently renovated lighted tennis courts. During the summer our swim lesson programs are tailored to fit the needs of adolescents and tiny tots and are available for both members and non-members alike. We also offer private lessons for children and adults.
Families enjoy family hosted barbecues each Sunday during summer months, as well as other social events conducted throughout the year for both adults and children. If you are interested in our club, please feel free to call or email the manager, Alex Romanko, for additional information:
(408) 739-3833 or office@fairbrae.com
___________________________________________________________________________
CALLING ALL FAIRBRAE (WANNA-BE) OLYMPIANS AND GUESTS! REGISTRATION FOR FAIRBRAE'S FIRST EVER SUMMER OLYMPICS IS NOW OPEN!
Join us on Sunday, August 25th at 4 PM for an afternoon of low-skill/high-reward 
Have you always wanted to compete in a sport professionally but you feel you just don't have the skills? Well, now is your opportunity to shine!
Join forces with a partner and compete in 3 casual skills-challenge type events

Pick a country (any country!) to represent your team and dress to match your partner!

Kids can join too! (Two age groups, 5-9 and 10+) Sign 'em up!

GOLD, SILVER and BRONZE medalists for both kids and adults with some awesome prizes!

Ed Fong's Famous Fajita Bar and special surprise dessert treat!
We can't wait to see you all there! See the event details on here.
Registration is now closed for Adult Olympians!  For Youth Olympians, please email anne@fairbrae.com.
Summer Swim Lessons Are Open For Registration!
Spots fill quickly, so don't delay!
2019 Summer Swim Lesson Registration Information
Fun Adult Friday Night Tennis Mixers!
Play some fun Friday night tennis with other members.  Players will be mixed and matched based on level.  Format will be 8 game pro set or Fast 4 Rules depending on number of players. 
WHO: All levels welcome
WHEN: Fridays, 6:30pm to 9pm
WHERE: Fairbrae Tennis Courts #1 and #2
NOTES
non-members MUST sign in at gate
Sign up via the Tennis Court Reservation System Events calendar (sign up starts 3 days in advance).
Feel free to bring snacks/beverages to share (off the court) between sets and/or after tennis play
Labor Day Mixed Tennis Tournament sign-ups
Sign up for 2019 Labor Day Mixed Tennis Tournament happening on September 1st!!
When: Sunday, September 1st, 2019
Where: Fairbrae
Deadline: Friday, August 30, 2019 at 6:00 p.m.
There will be 2 groups of tournament play.
Sign up here!
---